Arthur Benjamin
18 September 1893 – 10 April 1960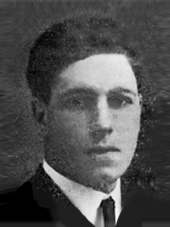 Elsewhere on this site, we've already met the other composers portrayed in Herbert Howells' early orchestral work The B'sof 1914; "Bartholemew" (Ivor Gurney), "Blissy" (Arthur Bliss) and "Bunny" (Francis Purcell Warren). For the rambunctuous final march, Howells portrayed his friend "Benjee", the Australian composer Arthur Benjamin.

"Benjee" had been adopted into this close circle of friends at the Royal College of Music during the halycyon pre-WW1 years when the College was under the benevolent watch of Sir Hubert Parry and the more bracing critical eye of Sir Charles Villiers Stanford. Many of the young composers at the College during this period formed close relationships that were to last for their lifetimes.

The "B's" were no exception, although the War was to leave one dead and another mad. Arthur Benjamin perhaps had one of the most varied experiences of the War Composers, serving as a soldier and then a gunner in the fledgling Royal Flying Corp.

Arthur Benjamin was born in Sydney in 1893 to a Jewish family. His father, Abraham Benjamin, was a commission agent (a businessman making transactions on behalf of businesses from other countries). His mother, Amelia, and his father were musical amateurs and encouraged their son. His parents moved to Brisbane, Queensland in 1896 where he attended Bowen House School and Brisbane Grammar School.

He made his first public appearance as a pianist aged six and had begun formal training on the organ aged nine, gaining some informal training with Frederic Cliffe during a tour of Europe in 1907. Aged eighteen, it seems that he took a job demonstrating pianos in a shop where an encounter with the composer Thomas Dunhill gained him a recommendation to study in England (although it seems he had some acquaintance with Dunhill before this encounter). He won an open scholarship to the Royal College of Music in 1911, where he studied harmony and counterpoint with Dunhill and the piano with Frederic Cliffe.
In his incomplete autobiography, the composer recalled:
In Australia I had had no instruction; in England everyone at first took it for granted that I, like himself, had grown up in intimacy with such technicalities as sonata-form, fugue, invertible counterpoint, I6th-century polyphony and so on. While other students discussed such things I held my tongue. I had merely revelled in music-never thought about it...How I came to win a scholarship in I912 remains a mystery...
In 1911, through Thomas Dunhill, he had his first compositions published - two piano pieces for children, which he recalled
I sold outright for a couple of guineas. I had completely forgotten them when, sometime in the 1940's, in Canada, a woman produced a copy from which her little girl was learning. One's early sins find one out in unexpected places. It was ten years before another piece of mine was published.
His composition tutor at the College was Charles Villiers Stanford, noted for his withering remarks on his students' work, and who (from Benjamin's memoirs) appears to have made somewhat prejudicial remarks about Benjamin's Jewish heritage. Nevertheless, Stanford encouraged his work. By 1914 Benjamin performed the piano part at the premiere of Herbert Howell's Piano Concerto in C minor in the Queen's Hall with Stanford conducting.

Indeed, Arthur Benjamin appears to have been an impressive figure. Howells recalled "He seemed already to be a cosmopolitan...widely travelled, confident, urbane, mature in conversation". Arthur Bliss recalled how "the B's" would visit the Diaghilev ballet and opera productions at Drury Lane together.

Like Bliss, Gurney and Purcell Warren, Benjamin enlisted for service in World War I, Benjamin enrolling into Army Officers' Training Corps. In April 1915 received a temporary commission as second lieutenant with the 32nd Battalion of the Royal Fusiliers and served at the Front.

In 1917 he took an unusual change of direction when he transferred to the newly-formed Royal Flying Corps (predeccesor of the Royal Air Force) as a gunner. In a letter dated 4 July 1918 Howells mentions hearing of his friend's endeavours "The last time I saw him he expressed a veritable ecstasy of delight in flying. I hope he won't be betrayed into over-rash ventures."

Howells was right to be nervous. Arthur's plane was shot down over Germany only weeks later on 31st July 1918 by an air ace called Hermann Göring. It appears he was lucky to survive unharmed. The violist William Primrose recalled a discussion with Benjamin about the incident:
Air warfare during World War I was carried out in a much more chivalrous manner...One of the unwritten rules required that if a plane was crippled and on its way down it should not be shot at. Benjamin's plane was hit and began to descend, but his foe did not conform to the chivalrous observance. Fortunately he and his crew survived the ensuing crash. The Germans followed them to earth, got out of their plane, and came forward, as they did in those days, to shake hands with their prisoners.
The leader of the squadron was, of course, at that time, Göring - Hermann Göring. I complained to Arthur, 'Why didn't you shoot the bastard right then? You would have saved the world an awful lot of trouble!'
Arthur spent the remainder of the war in Rühleben intern camp, a prison camp which housed mainly British civilians whom had found themselves trapped in Germany in August 1914. A number of composers such as Edgar Bainton and Benjamin Dale were already interned there, having been attending the Beyreuth Festival when war was declared. The camp had developed a special atmosphere for artists, generating its own newspapers, literature and music and Benjamin was able to compose and perform amongst like-minded peers. After the war concluded, Benjamin was repatriated to Australia on 29 November 1918.

Arthur Benjamin had a long career as both a performer and composer, taking positions teaching composition in Australia, England, Canada and the United States. His pupils in England included Benjamin Britten.

He wrote four operas, a symphony, many concertos and orchestral works, instrumental and chamber music during his long career. During the 1930s he was a pioneer amongst 'serious' composers in scoring music for films. With the exception of his famous Jamaican Rumba, few of his compositions remain in the repertoire, although many are available on record.

Although he did not compose any explicitly 'war-themed' works, in her analysis of his symphony, composed from 1943 to 1945 in Canada, Matyas Seiber notes "Its intensely dramatic, at time violent character reflected, in the composer's own opinion, the atmosphere of the war years." While this understandably World War II, Benjamin's World War I experiences must have been in his mind.

He died in London on 10 April 1960. Many of his musical manuscripts are held by the British Library (MS Mus. 250-263).

Robert Weedon, December 2015
Bibliography
Barnett, Rob, "Benjamin - Australian Symphonist", MusicWeb International
Blevins, Pamela, "Arthur Benjamin (1893-1960)", MusicWeb International
Campbell, Charles, "Benjamin, Arthur Leslie (1893–1960)", Australian Dictionary of Biography, Volume 7, (MUP), 1979
Howells, Herbert, "Arthur Benjamin 1893-1960" in Tempo New Series, No. 55/56 (Autumn - Winter, 1960), pp. 2-3
MacDonald, Calum, CD Notes for Violin Sonatina & Viola Sonata, Hyperion Records CDA67969, 2014
Seiber, Matyas, "Arthur Benjamin: Symphony" in Tempo New Series, No. 32 (Summer, 1954), pp. 9-12