William Denis Browne
3 November 1888 – 4 June 1915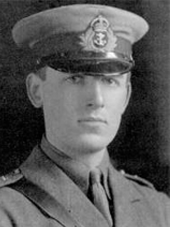 William Denis Browne's name will forever be associated with the Apollonian figure of Rupert Brooke. It was Denis Browne who accompanied Brooke on the ill-fated WWI expedition to the Dardanelles in February 1915 and it is his poetic description of Brooke's death and burial that has to a certain extent mythologised the poet.

Denis Browne's death in battle at Gallipoli six weeks later was somewhat less picturesque. Having seen the public reaction to Brooke's death, Denis Brown's musical executors were concerned that as the first composer to die in the war he would be similarly sentimentalised. As a result of this, his legacy was hidden from view until the war was over, and before then on the composer's own instructions only a handful of works were retained.

Although because of their close friendship it is easy to only associate Browne with Rupert Brooke, this is a disservice, for he was the composer of "To Gratiana Dancing and Singing", a setting of a poem by Richard Lovelace often considered the high point of English song of this period.

None of his surviving songs are alike, and all are attractive in their own ways, displaying a range of talents in word setting and harmonic inventiveness - from the playful yet deceptive simplicity of 'Diaphenia' to the ghostly, impressionistic 'Arabia', his last complete work dating from 1914. He also left some choral works of varying quality and attractive lighter music for smaller orchestras, including a one act ballet, The Comic Spirit, which was performed in 1914 but is now partially lost.

Having surveyed his surviving works (and there are few), one is inclined to say that he was perhaps the most forward-looking of the War Composers, and whereas many of his fellow pre-war composers were writing in the Edwardian, Germanic style taught at the RCM, Denis Browne's finest songs still feel fresh, inventive, and above all different. They feature unexpected and pleasing harmonies, lyrical word setting and interesting changes of meter that display influence more from the impressionist music of France, Russian ballets and the dances of the English Renaissance than the German High Romantic music in vogue at the time.

Resources
Recreating The Comic Spirit - Robert writes about recreating Denis Browne's unfinished ballet