Jean Cras
22 May 1879 – 14 September 1932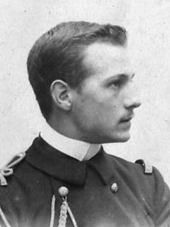 Jean Cras was first and foremost a professional officer in the French navy, in which he served before and after World War I.

Born in Brest, Brittany, into the family of a naval surgeon and training with the naval academy from 1896, he rose to the rank of rear-admiral and received numerous decorations for heroism during World War I. He even designed a navigational gyrocompass called a règle-rapporteur which is apparently still used by the French Navy and coast guard today.

Cras, not unlike Nikolai Rimsky-Korsakov, combined his naval career with a sideline of musical composition - it was a very successful sideline, and his biographer Paul-André Bempéchat has argued that he is the "missing link" between 19th century French Romanticism and the Impressionists.

In 1900 he had met the composer Henri Duparc who recognised Cras's ability, and the two soon became friends, with the older composer giving him an intense three month period of musical tuition in Paris in 1900 which became the foundations for the young composer's output.

He was perhaps the greatest French naval commander of World War 1; one award citation states that his actions during the Adriatic Campaign led to "the saving of the Serbian Army in 1916", for example sinking a German submarine as commander of the torpedo boat Commandant Bory.

As well as a great tactician, he seems to have been a true hero as well - we learn from his citation when he was awarded the Médaille de sauvetage (the French Victoria Cross) that following an explosion on deck he jumped into the sea to save a sailor who did not know how to swim.

There are examples of numerous other brave deeds and tactical triumphs. After the War he was decorated wih the highest Legion d'honneur.

While he continued composing, it was only in 1921 that his opera Polyphème was awarded First Prize in the 'Concours musical de la Ville de Paris' and was produced at the Opéra-Comique in December 1922. The work had taken Cras many years to complete and was dedicated to Duparc, who was greatly moved when the composer visited him in old age to perform the work in person.

The piece brought him acclaim in Paris and other performances of his works followed, including a Piano Concerto in 1932, written for his second daughter Colette who was a talented pianist.

It is perhaps his numerous chamber works that most sum up the composer, the breezy tonality of works such as his Quintette (1928) indeed showing influence of the Impressionists, but perhaps looking back to the sound world of the turn of the 20th century rather than any new epoch, although the harmonies of later works are often said to show the influence of Bartok. His writing for flute and harp is particularly exquisite.

Other compositions for choral and vocal forces were largely derived from his Roman Catholic faith, which intensified in later life. He died in September 1932 after a short illness, when his abilities as a naval hero were more celebrated than his work as a composer.

It is only in recent years that recordings and performances of his work have led to a reassessment, particularly following the release of a definitive biographical study by his biographer Paul-André Bempéchat.
Bibliography
Bempéchat, Paul-André "Cras, Jean" Grove Music Online (Oxford: Oxford Music Online)
Bempéchat, Paul-André Jean Cras, Polymath of Music and Letters (Farnham: Ashgate, 2009)
Public domain compositions by Jean Cras can be viewed at the IMSLP website