Ivor Gurney - a biography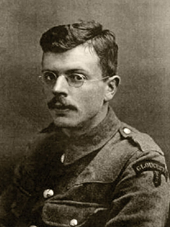 Ivor Bertie Gurney was born in a cramped house in the shadow of Gloucester Cathedral. His father was loving but sometimes distant tailor, his mother evidently controlling and neurotic. Despite his family's lack of social status and education, through the kindness of family friends he gained early exposure to literature and music which, coupled with the landscape of his home county fed the young Ivor's imagination, as it would for the rest of his life.

He became a chorister at the Cathedral and later studied the organ with Herbert Brewer (where he was a fellow pupil of Herbert Howells and Ivor Novello). Both Gurney and Howells were present at the premiere of Ralph Vaughan Williams' Fantasia on a Theme of Thomas Tallis in 1910, and both of them walked the streets of Gloucester for hours afterwards excited by the new sound of the work. He also met the aspiring poet F. W. ("Will") Harvey who was to remain one of his closest friends.

Ivor gained a scholarship to the Royal College of Music in 1911, which he launched into full of youthful enthusiasm and bravado, seemingly carrying the baggage of having been declared the "new Schubert". He joined Howells and made important friendships with other composers, as well as the violinist Marion Scott, who latched onto the shabby-but-handsome young composer having been badly hurt by a perceived deception by another composer Ernest Farrar, although like Farrar their relationship always seemed to be platonic. She was to become Gurney's greatest champion, and provided financial and emotional support for him long after his mental health deteriorated.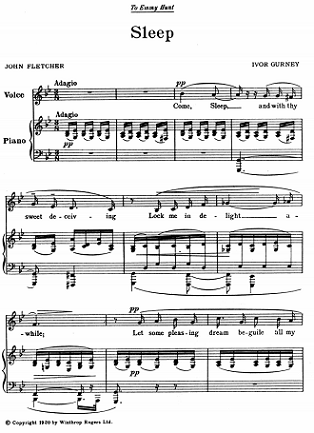 Never the most stable of individuals and most likely suffering from a form of bi-polar disorder which seemingly led to periods of frenetic exuberance followed by depression, Ivor suffered his first breakdown in 1913 and had to return home to Gloucester. A recovery seems to have been brought about by the familiarity of home and resumed his studies at the College by July 1914, during which time he composed his Five Elizabethan Songs. His teacher Stanford noted that of all his pupils, he had the potential to be "the biggest of them all" but felt him to be "the least teachable".

After war was declared the following month, Ivor followed many of the RCM students and his friend Will Harvey to volunteer for the Army. However, Ivor was first rejected due to his poor eyesight. By February 1915, as the war entered a period of stalemate and high casualties, shortages of troops meant that Army recruitment became less picky and Ivor was accepted into service. He joined the Gloucestershire Regiment as a private in 2nd/5th Battalion, where he was a signaller. In his spare time (trench warfare was characterised by long periods of waiting around for orders), he began serious work on writing poetry, always a latent interest, but now a neccessity born of not having the facilities for composition. These were sent home to Marion Scott who had become a sort of business manager for his personal affairs. They were to become his first published poetry collection Severn and Somme.

On Good Friday 1917, he was shot in the shoulder, but recovered from his injury and in July 1917 he transferred to the 184 Machine Gun Company, a slightly safer posting which meant he was spared going "over the top" in the third battle of Ypres (Passchendaele). However, it meant that he was responsible for providing covering fire for his regiment and he expressed in poems his guilt at killing the enemy, which as a private he considered a mirror image of himself (despite his poor eyesight, he was noted as a crack shot).

It was widely repeated in biographies for many years after Ivor's death that serving in the First World War brought on or at least exacerbated the mental illness that led to his institutionalisation in 1922, but recent opinion is that the comradeship and discipline of active service kept his illness at bay, at least at first; Tim Kendall's television biography The Poet Who Loved the War suggests that rather than the usual reasons of patriotism and duty, Gurney joined as an experiment to see if it would improve his mental state. Certainly Gurney valued the structure and camaraderie that was lacking in his undisciplined approach evident during his time as a student, although the losses of fellow soldiers and friends affected him badly.

It was only after he had been invalided out of front line service after being gassed in 1917 that a deeper depression returned. After getting a "Blighty", he chose to recuperate at a military hospital in Scotland where he formed an ill-fated attraction to a nurse, Annie Nelson Drummond, which seemed to worsen his condition. He later moved to Seaton Delaval in Northumberland, which he despised. After a suicide attempt on 19 June 1918, he was honourably discharged from the Army in October 1918.

The five years following his discharge were marked by a frenetic period of composition, both of songs and poetry. He returned to the RCM where Ralph Vaughan Williams was his composition teacher, and many of his finest song miniatures such as his two A.E. Housman cycles Ludlow and Teme and The Western Playland for voice and quartet (later included in the Carnegie Collection of British Music) as well as his largest orchestral works, the Gloucestershire Rhapsody and the War Elegy were written. Publications of his work gained him recognition as both a composer and poet. By this point, however, his mental stability was all but shattered.

He left the RCM and returned to Gloucester, trying his hand at a series of unsuccessful jobs. His behaviour was becoming more erratic and following another suicide attempt he was confined to an asylum for his own safety in September 1922. He was to remain in such institutions for the rest of his life. The asylums evidently still gave Gurney the opportunity to compose and write, but he hated the confinement, making several attempts to escape.

Pamela Blevins' biography Song of Pain and Beauty notes that on one occasion he turned up at Vaughan Williams' house in Chelsea having absconded from his hospital at Stone House. Knowing the composer's recent history, Vaughan Williams had no choice but to telephone the hospital to have him collected, which he later said was one of the most difficult decisions he had to make and made him feel "like a murderer".

Gurney was subject to various experiments and changes of location but none seemed to improve his health, and rather like the poet John Clare he began to think of himself as other famous writers. He died of tuberculosis on 26 December 1937 at the City of London Mental Hospital. After his death, his huge collection of manuscripts were sorted and edited by Marion Scott and the composer Gerald Finzi (not always that collaboratively) and through their efforts and more recent work, Gurney's best compositions and poems are now widely available in print, although many remain in manuscript at the Gloucestershire County Archive (D10500).

Robert Weedon, November 2014
Bibliography
For more information on Ivor Gurney, the Ivor Gurney Society has a more extensive biography of the composer and his works. Public domain works by the composer can be viewed on the IMSLP website.

Anthony Boden, Ivor Gurney : A Biographical outline, Ivor Gurney Society website, 2007
Pamela Blevins, Ivor Gurney and Marion Scott: Song of Pain and Beauty, The Boydell Press, 2008
Michael Hurd, The ordeal of Ivor Gurney, Faber & Faber, 1978
Michael Hurd, 'Gurney, Ivor Bertie (1890–1937)', Oxford Dictionary of National Biography, Oxford University Press, 2004
Tim Kendall, Ivor Gurney: the Poet who Loved the War, BBC Four, 2014
Donald McLeod, Composer of the Week - Ivor Gurney, BBC Radio 3, 2014
A comprehensive new biography by Dr Kate Kennedy, Ivor Gurney: Dweller in Shadows is due for release soon.