Frederick Septimus Kelly
29 May 1881 – 13 November 1916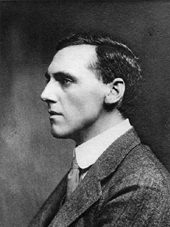 Frederick Septimus Kelly is one of the most enigmatic of the War Composers. An Australian by birth, he was probably more famous in his day as a rower than a composer; he won gold with the men's 'Eight' in the 1908 London Olympics and was said to have a grace and ability on the water that no other oarsman of his generation could match.

A talented pianist, he was carving an unusual dual career as a musician and sportsman. The two sometimes overlapped, as heard in his raucous early cricket song 'Eton and Winchester'. In terms of his compositions, he is largely agreed to have been a late starter in terms of gaining a unique voice; reviews of his published works usually state that they are competent but unremarkable, although recordings of his works remain scarce and some works are still in manuscript in Australia.

In common with many of the War Composers his music was neglected during the 20th century, although a large project by the National Library of Australia in 2004 led to a rediscovery of his work including a very complete set of personal diaries from 1907-1915 which reveal his friendships and connections to the 'great and good' of the day.

Today he is best remembered as one of the participants in the ill-fated Hood Battalion which set sail on the Grantully Castle with an extraordinary band of noteworthy young men including the poet Rupert Brooke and the composer William Denis Browne amongst others. Unusually, like Cecil Coles, Kelly continued to compose music even after enlisting, for example writing an Elegy for strings and harp to commemorate Brooke's burial on the Isle of Skyros early in the voyage. That battalion ended up at Gallipoli where he won a DSC in January 1916 during the Gallipoli evacuation. He was promoted to lieutenant-commander, but posted to the Somme where a bullet claimed his life in November of that year.

Resources