F.S. Kelly - a biography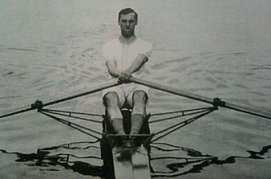 Frederick Septimus Kelly was the seventh child from an enormously wealthy Australian family. His father Thomas Kelly had started off as a wool trader, but by the time of his death sat on a variety of boards of what would now be called 'multinational corporations'. After grammar school in Australia, Frederick and his five brothers were sent to Eton in 1893, where he progressed on to Baliol College Oxford in 1909.

Music had been his passion since his youth; he had allegedly memorised Mozart piano sonatas by the age of five and began composing at around the same age. However, his parents dissuaded him from leaving Eton to attend a conservatoire aged 14, and Frederick found a substitute in sporting pursuits; football, cricket, but especially rowing.

Indeed during his life, he achieved most fame as a rower, winning the Grand Challenge Cup at Henley 1903 and 1905 and gold at the 1908 London Olympics as part of the men's eight, plus a multitude of other events. He was apparently considered one of the finest 'skulls' of his generation, with a poise and effortless technique unrivalled by any of his contemporaries.

His musical and sporting pursuits were detrimental to his studies at Oxford (he graduated with a fourth class degree in history), but he had made the connections and friends he needed, and a large inheritance on his father's death in 1901 and his mother's in 1902 meant that he never wanted for money, although the emotional impact of losing both of his parents within the space of a year marked a period of readjustment for the young composer.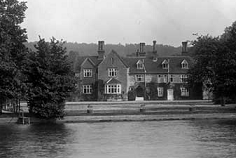 Although a proud Australian and frequent traveller, Frederick was to make his home in England, purchasing Bisham Grange, a fine manor house on the banks of the River Thames in Berkshire, where he lived with his sister Maisey and hosted select gatherings.

With a highly-strung, blunt personality, he was noted for his eccentric behaviour when overcome by high spirits when he apparently "rolled on the ground or indulged in war-dances and animal impressions" (ODNB). He seems to have also gained the sobriquets 'Sep' and the more abstruce 'Cleg', presumably a reference to Samuel Rutherford Crockett's 1896 novel Cleg Kelly: Arab of the City. He is frequently referred to as 'Cleg' in war correspondence.

Oxford had given him the opportunity to mix with like-minded individuals and after his father's death he recommenced a more serious study of music. From 1903 onwards he attended the Hochschule Konservatorium in Frankfurt to study piano and composition, a choice perhaps influenced by the attendance there of another Australian, Percy Grainger, with whom Kelly had made an acquaintance previously, although it was also had an English contingency in Cyril Scott, Balfour Gardiner and Roger Quilter.

Frederick wrote in his diary in 1907 of his desire 'to be a great player and a great composer'; he toured several concert programmes around England as well as Australia where he performed national premieres of new works by Debussy and Skryabin.

For the next five years his experience as a concert pianist fluctuated; his diaries record some triumphant public performances, but also disappointments (on one occasion, his memory failed him during a piano concerto). Meanwhile, he composed steadily, with his works making semi-regular appearances in London performances, although there was no 'break out' work and his archives reveal many half-completed works.

As a patron of the arts, he also encouraged other musicians, for example taking over the running of the Classical Concert Society. It was through this that he met a Hungarian violinist called Jelly D'Aranyi, for whom he composed several works and it is widely assumed he would have married, although this period of his life was marked by several relationships that cooled off before engagement.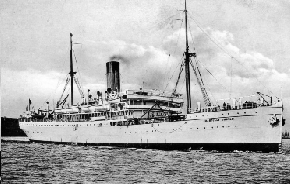 At the outbreak of war in August 1914, Kelly was quick to volunteer, joining the newly-formed Royal Navy Division in September 1914. Posted in the Drake Battalion, he was transferred to the Hood Battalion sailing aboard the Grantully Castle towards the Dardanelles in the eastern Mediterranean where he found himself among acquaintances such as the composer William Denis Browne, Arthur Melland Asquith (son of the Prime Minister, known as "Oc"), the banker Patrick Shaw Stewart (now best known for the war poem "Achilles in the Trench"), Charles Lister and most famously the poet Rupert Brooke, whose midnight burial on the Isle of Skyros among the olive groves is one of the more famous episodes in the early part of the war.

After the ensuing battles at Gallipoli, Kelly was awarded a Distinguished Service Cross for conspicuous gallantry during the evacuation in January 1916. While recuperating he composed his Elegy for strings and harp "in memoriam Rupert Brooke" (1915-6), one of the few works by Kelly to have been recorded.

He was promoted to lieutenant-commander, but posted to the Somme where a bullet claimed his life at Beaucourt-sur-Ancre on 13 November 1916 while leading an attack on a German machine-gun emplacement.

Robert Weedon, February 2014
Bibliography

Frederick Kelly's surviving manuscripts are deposited in the National Library of Australia, where many can be viewed.

Carmody, John, 'Frederick Septimus Kelly', Australian Dictionary of Biography, vol 9 (Melbourne: Melbourne University Press, 1983), pp 554–555
Davies, Rhian, 'Frederick Septimus Kelly' in Grove Music Online, accessed February 2014, www.oxfordmusiconline.com
Hartley, Harold, 'Frederick Septimus Kelly, (1881–1916)', rev. Rhian Davies, Oxford Dictionary of National Biography (Oxford: Oxford University Press, 2004)
Radic, Thérèse, Race Against Time: The Diaries of F.S. Kelly (Canberra: National Library of Australia, 2004)