Fritz Kreisler
2 February 1875 – 29 January 1962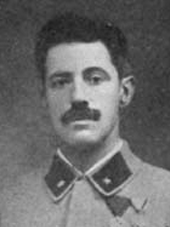 Friedrich "Fritz" Kreisler is perhaps best known today as a virtuoso violinist who was revered as one of the finest instrumentalists of his day. However, he was also a composer, mainly of lighter works including a number of operettas and songs. He had a brief, but nonetheless eventful experience in World War 1 before moving to the United States.

Born in Vienna, his father, a doctor, was a keen amateur musician and introduced his son to the violin aged four. His father was Jewish and his mother was a Roman Catholic. Aged 12, he was baptised into the Church, but his Jewish heritage would precipitate a number of choices in his later life.

The young Fritz showed an amazing early ability and attended the Vienna Conservatoire from age seven, the youngest recorded entrance to that institution. There, he received tuition from composers including Anton Bruckner, Léo Delibes and Jules Massenet, although performance was his main focus.

His musical debut was in New York in 1888, and toured the USA for the following two years as assisting artist to Moriz Rosenthal.

The tour was not said to have been a success and he returned to Vienna and non-musical studies; two years at Vienna Gymnasium and a further two years as a pre-medical student were followed by military service in the Austrian Army, during which time he neglected the violin.

It was only in 1896 that he decided to recommence his musical career. He applied unsuccessfully to join the orchestra of the Vienna Hofoper, but this setback was only temporary and a performance with the Berlin Philharmonic in 1897 under Arthur Nikisch saw him begin an international career, seeing success particularly in London.

Indeed, Sir Edward Elgar composed his famous Violin Concerto for Kreisler, who premièred the work in November 1910 at the Queen's Hall under the composer's direction.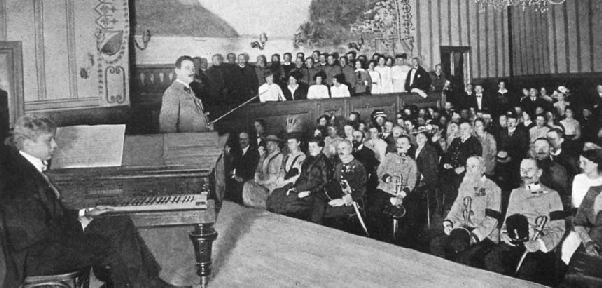 Having served in the military, at the outbreak of World War I, Kreisler was recalled for duty, where he was involved in the very heavy fighting between Russia and the Central Powers in Galicia (Poland) during the first months of the war. In 1915, he published a short memoir of his brief period serving with the Austrian Imperial Army against Russian forces called Four Weeks in the Trenches: The War Story of the Violinist:
The outbreak of the war found my wife and me in Switzerland...Although I had resigned my commission as an officer two years before, I immediately left Switzerland, accompanied by my wife, in order to report for duty. As it happened, a wire reached me a day later calling me to the colors.
As a musician, the memoir is noteworthy for its focus on the sound of battle:
The moral effect of the thundering of one's own artillery is most extraordinary, and many of us thought that we had never heard any more welcome sound than the deep roaring and crashing that started in at our rear. ...I, too, soon got accustomed to the deadly missiles, in fact, I had already started to make observations of their peculiarities. My ear, accustomed to differentiate sounds of all kinds, had some time ago, while we still advanced, noted a remarkable discrepancy in the peculiar whine produced by the different shells in their rapid flight through the air as they passed over our heads, some sounding shrill, with a rising tendency, and the others rather dull, with a falling cadence.
However, the memoir notes the toll the fighting took on his men:
But the strain of the continuous fighting for nearly the whole day without respite of any kind, or chance for food or rest, in the end told on the power of endurance of our men, and when the last attack had been successfully repulsed they lay mostly prostrated on the ground, panting and exhausted... Enthusiasm seemed suddenly to disappear before this terrible spectacle. Life that only a few hours before had glowed with enthusiasm and exultation, suddenly paled and sickened.
Following the heavy losses of Austrian troops, his batallion was reposted to Grodeck, south of Lemberg. In scenes that seem reminiscent of the Christmas Truce on the Western Front, Kreisler notes that on the Eastern Front, the two entrenched armies soon became familiar with one another:
After the second day we had almost grown to know each other. The Russians would laughingly call over to us, and the Austrians would answer. The salient feature of these three days' fighting was the extraordinary lack of hatred... By the morning of the third day we knew nearly every member of the opposing trench, the favorite of my men being a giant red-bearded Russian whose constant pastime consisted in jumping like a Jack-in-the-box from the trench, crying over to us as he did so. He was frequently shot at, but never hit. Then he grew bolder, showing himself longer and longer, until finally he jumped out of the trench altogether, shouting to us wildly and waving his cap. His good-humored jollity and bravado appealed to our boys and none of them attempted to shoot at him while he presented such a splendid target.
He then notes a later incident in which two soldiers from each side crossed no-man's land to exchange gifts and pleasantaries. This frivolity was soon banned by high command, and his next reminiscence is of an intense battle:
At five o'clock that afternoon we suddenly received orders through a running messenger, who was braving the incessant machine-gun fire, that our positions were about to be abandoned and that we were to evacuate our trench under the cover of darkness, at eleven o'clock. I cannot but confess that we all breathed more freely on the receipt of that information, but unfortunately the purpose could not be carried out. The Russians by this time evidently had realized our comparatively defenseless condition and utter lack of ammunition, for that same night we heard two shots ring out, being a signal from our sentinels that they were surprised and that danger was near. I hardly had time to draw my sword, to grasp my revolver with my left hand and issue a command to my men to hold their bayonets in readiness, when we heard a tramping of horses and saw dark figures swooping down upon us. For once the Cossacks actually carried out their attack, undoubtedly owing to their intimate knowledge of our lack of ammunition. My next sensation was a crushing pain in my shoulder, struck by the hoof of a horse, and a sharp knife pain in my right thigh. I fired with my revolver at the hazy figure above me, saw it topple over and then lost consciousness.
Kreisler had been wounded by a Russian bayonet and lay injured in the trench for seven hours before being picked up. There was some confusion as to his condition, and some publications even reported that he had been killed. The field hospital to which he was sent to recover was somewhat coincidentially the hospital his wife was serving at as a nurse. His injuries were serious enough that he was judged by an army panel physically unfit for army duty "at the front or at home" and he was exempted from further service.

Deciding to avoid the War, Kreisler moved to New York to begin a concert tour that had been planned before the outbreak of the War. The New York Independent of November 1915 notes that he was still "limping and leaning on a cane" but that his "wound will not interfere with his concert tour". However, his biographer Boris Schwarz notes that anti-German feelings were so high in the States at the time, particularly after the sinking of the RMS Lusitania by a German U-Boat in May 1915 that Kreisler was forced to withdraw from his tour.

Indeed, he didn't perform again until October 1919. From 1924 to 1934 he lived in Berlin, but after witnessing the increasing Anti-Semitism in Germany, he moved to France and then in 1939 returned to the USA for the rest of his life, becoming an American citizen in 1943.

As a composer, Kreisler was most noted for writing original cadenzas for famous violin concerti; his Beethoven and Mozart cadenzas in particular are still performed today. His longest work is probably his operatta Apple Blossoms of 1919. He also showed himself to be something of a musical mimic - he fooled critics by writing pastiches of earlier composers' styles and only later revealing they were by himself.

Although a traffic accident in 1941 impaired his ability to perform for the rest of his life, he was nonetheless regarded as the finest violinist of his generation. He died in January 1962.
Bibliography
Kreisler, Fritz, Four Weeks in the Trenches: The War Story of the Violinist (Boston & New York: Houghton Mifflin Company, 1915)
Lochner, L.P. Fritz Kreisler (New York: Rockcliff, 1950)
Schwarz, Boris "Kreisler, Fritz" Grove Music Online (Oxford: Oxford University Press)