E.J. Moeran's war
In 1913, Ernest John Moeran ("Jack") had just left Uppingham School in Rutland to attend the Royal College of Music. The unassuming son of a country vicar of Irish origin, Jack had grown up in the parish of Bacton on the Norfolk Broads, where the wild coast and marshy landscape had provoked a strong imagination in the young composer and a love of the songs of the working man which were to influence his later folksong collecting in the region.

Although no early compositions survive, they were enough to gain him a scholarship to the RCM where he was to study with Sir Charles Villiers Stanford, helped in part by the encouragement of his teacher at Uppingham, Robert Sterndale Bennett, grandson of Sir William Sterndale Bennett.
WWI
With the outbreak of war, Jack's time at the College was cut short and he did not return for the Autumn term. On 30th September 1914, Jack joined up as a motorcycle dispatch rider in the 6th (cyclist) Battalion of the Norfolk Regiment, aged 19.

Motorbikes were a new innovation in modern warfare, but the motorcycle dispatch rider's life was a dangerous and uncertain one. With telephone communications still unreliable and likely to be severed every time a shell exploded on a communication trench, the army still relied heavily on antiquated methods as pigeons to deliver memos, orders and other messages to the front lines. The comparative speed and precision allowed by a dispatch rider meant that they were in high demand. Early in the War, some enthusiasts had even volunteered bringing their own machines with them.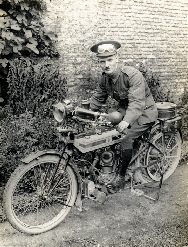 With the onset of entrenched warfare on the Western Front, their role became ever more crucial. Riding with just a cap or tin hat for protection, the riders were often targets, having to cross unprotected strips of land between entrenched lines to deliver messages. The shell-pocked mud and threat of unexploded ordnance presented other hazards.

Jack became a Lance Corporal and in June 1915 presumably left his role as a dispatch rider when he was commissioned as a Second Lieutenant. He briefly returned home on leave to Norfolk in the July of that year, and according to Roy Palmer he used his leave to collect some folk songs such as "The Bold Richard", "The Captain's Apprentice" and "The Pressgang" (Palmer 346).

He returned to the Western Front where he fought in the West Yorkshire Regiment. He became involved in the Battle of Arras of 1917. On 3rd May during the Second Battle of Bullecourt, a shell exploded near him leaving him with head injuries.

Geoffrey Self's book on Moeran suggests that some shrapnel particles were considered by doctors to be too close to his brain to remove and a metal plate was fitted to cover the damaged parts of his skull. However, Ian Maxwell's research into the composer has found that the injury sustained by Moeran was not as significant as previously thought and that Moeran made a full recovery.

Following his recuperation he was promoted to full Lieutenant and spent the rest of the war stationed at Boyle, County Roscommon, a headquarters garrison in Northern Ireland. (Self, 20)

According to Philip Heseltine (Peter Warlock)'s profile of Moeran from The Music Bulletin (1924) after a period convalescing, Jack was attached to the transport section of the Royal Irish Constabulary. With a keen interest in engineering (his father wanted him to be an engineer before music intervened), he worked at the newly-formed School of Aeronautics (later part of the new Royal Air Force) until he was released from service in January 1919.
Post-war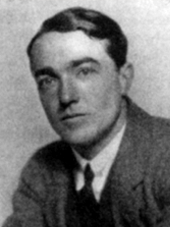 By 1924, Philip Heseltine had become a great friend of Jack (the two were sharing a cottage in Eynsford, Kent, the Bacchanalian details of which are widely documented), and Hesletine's article on Moeran suggests that the war did not put a stop to Moeran's composition and he had "acquired considerable facility on the technique of composition, and had a fair amount of chamber music to his credit." (Hesletine, 1924)

It is unclear what Moeran composed during this period, however. Few of his early works survive, although given Moeran's long gestation periods, self-criticism and inexact archiving, it is possible some material from his war found its way into other works of his early period.

Moeran's Three Pieces for Piano of 1919 are his earliest surviving work, and display some influence of Irish lyricicm presumably engendered by his protracted stay in the country during his convalensence.

After the war, following a brief spell teaching music at Uppingham, Jack went back to complete his studies at the RCM. The personnel at the College had changed dramatically; not only were many young composers gone, but Sir Hubert Parry, the RCM's great figurehead had died in 1918 during the terrible post-war influenza outbreak. Moeran continued to be tutored in composition by Stanford, but mainly the younger composer John Ireland, and it is the latter's impressionistic sound world, along with the works of Delius that colour Jack's early works for orchestra and piano, although Jack himself only really found his voice with his rediscovery of the folk music of the county of his youth.

Jack's early compositions for orchestra such as In the Mountain Country were enough to gain him a variety of commissions, the most promising a commission from Hamilton Harty for a symphony for the Hallé Orchestra in 1924.
Symphony in G Minor
The end result, the Symphony in G Minor took him over ten years to complete and is his masterpiece. Although Moeran's own programme note for the work (HMV C2219-24) states that it is "not programme music" and discusses the work purely in musical terms, it's difficult to hear without the shadow of the war which seems to permiate the work.

Like many of his generation, Jack is not recorded as having spoken of the war in his correspondence or programme notes. As with the destroyed French landscape portrayed by Ralph Vaughan Williams in his Pastoral Symphony of 1922, Jack's symphony seems to have acted as a form of catharsis for the composer, writing in music what couldn't be written in words.

In his biography The Music of E.J. Moeran, Geoffrey Self identifies the Symphony in G Minor as Moeran's personal "war requiem" and makes a compelling argument that the work is full of references to the Norfolk folk song "The Shooting of His Dear" collected by the composer in the post-war years, the tune of which is subtly quoted not so much for its melody as for its words ("curs'd be that old blacksmith that made my old gun").

While the work features some of the most beautiful lyrical melodies that Moeran ever wrote (the second subject theme of the first movement could not have been written by anybody else), in the first and last movements this lyricism is often consciously drowned out by martial brass, insecure staccato strings and throbbing drums, while the barren Norfolk marshland landscape supposedly depicted in the second movement perhaps evokes an even more desolate, post-apocalyptic landscape. Only the breezy Scherzo offers some respite. It's a turbulent, troubling work, the stuttering end chords leaving the listener unsure even if the work has finished.

Perhaps this description makes it sound unpleasant to listen to, but in fact it's a very accessible, melodic work with passages of great symphonic beauty. It's perhaps the archetypal work of E.J. Moeran, a man whose life was troubled, often unhappy and marked by periods of self-doubt and depression.

When Jack fell into the water at Kenmare in 1950, there were some who suspected alcoholism, an accident or perhaps even suicide. While it is certain that Jack suffered from bouts of alcohol dependency throughout his adult life, his WW1 experience cannot be discounted; when Benjamin Britten met him at the Norfolk and Norwich festival in 1934, he reported Moeran was "a near-invalid, broken by the 1914-18 war [who] struggled manfully with his problems and produced music of personality and beauty". (Britten on Music, 405)

Robert Weedon, February 2014, rev. June 2014


Bibliography

Geoffrey Self's biography The Music of E.J. Moeran is currently the only full-length published study of the composer, and thus at the present time can be considered the main reference work for anybody looking into the life of E.J. Moeran.
Ian Maxwell of Durham University, the editor of British Music, has recently completed a doctoral thesis entitled "The Chamber Music of EJ Moeran". Mr Maxwell informs me that in the course of his research he has discovered a number of widely-quoted elements of the accepted Moeran biography are inaccurate or exaggerated. Therefore, it may be that this article will have to be re-written once Mr Maxwell's revised Grove entry of the composer becomes available.
Andrew Rose's Worldwide Moeran Database is a fine online resource for biographical and bibliographical details and features a comprehensive list of earlier recordings although has sadly not been updated for some years and several links appear to be broken. The last ten years have seen important Moeran CD releases from Chandos, Naxos, BMS plus a reissue of the revered Lyrita LPs.


Hesletine, Philip, "E.J. Moeran" in The Music Bulletin Vol. VI (1924), pp. 170-174
Kildea, Paul Francis (ed.), Britten on Music (Oxford: Oxford University Press, 2003)
Macleod, Donald, Composer of the Week - Ernest John Moeran, BBC Radio 3 (December 2010)
Moeran, Ernest John, The Symphony in G Minor HMV C2219-24, 1943 (reprinted in Self, 274)
Palmer, Roy, "Neglected Pioneer: E.J. Moeran" in Folk Music Journal, Vol 8 No 3 (2003), pp.345-361
Rose, Andrew Worldwide Moeran Database, accessed 02 March 2014
Self, Geoffrey, The Music of E.J. Moeran (London: Toccata Press, 1986)
Self, Geoffrey 'Moeran, Ernest John Smeed (1894–1950)', Oxford Dictionary of National Biography (Oxford: Oxford University Press, 2004)
Watson, W.H.L., Adventures of a Motorcycle Despatch Rider During the First World War (Edinburgh and London: William Blackwood and Sons, 1915)