Rudi Stephan
29 July 1887 – 29 September 1915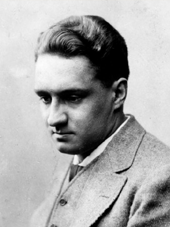 Rudi Stephan was perhaps the most famous German composer killed in World War 1. His death at the Eastern Front in 1915 deprived Germany of the leading member of the informal Jungdeutsch movement of proto-Modernist composers influenced both by the late-Romantic music of Richard Strauss and the Impressionism of Debussy, but also the more Modernist music being premiered in the pre-war period by composers such as Alban Berg and Igor Stravinsky.

Born in the city of Worms, Rhineland in 1887, his musical studies were encouraged by his parents; he was taught music from an early age and his father, a respected lawyer, sat on the boards of several arts festivals, meaning that the young Rudi was exposed to a wide range of cultural experiences in his youth.

In 1905 Rudi persuaded his parents to allow him to study music at a conservatoire. He first attended the Frankfurt Hochschule (1905), but left there in 1906 to study in Munich. Although taught by several respected teachers, Juliane Brand suggests that he appeared to shun formal composition study and follow his own instincts.

Early works tended to be song settings and works for chamber forces, but from 1908-9 onwards, his works were conceived on a larger scale; there followed a one-act opera Vater und Sohn (Father and Son), a ballad for tenor and orchestra called Liebeszauber (Lovespell) and the first of his pieces titled Musik für Orchester (1910). His father financed a public performance of his works in January 1911, hiring the Munich Konzertverein orchestra. The performance was not said to have been a complete success, but brought his name to a greater audience and focussed his mind.
Maturer works
Despite an apparent daliance in watercolour landscape painting in his youth, his later works for larger ensembles especially were explicitly un-programmatic. His adherence to absolute music went as far as writing a note on his Opus 1 explaining to his publisher that it should have "no poetic title, not the designation tone poem, nothing".

His subsequent orchestral compositions have austere titles such as Music for Seven String Instruments and Music for Orchestra. Somewhat confusingly, there are two surviving compositions called Musik für Orchester, usually distinguished by the date of performance; 1910 and 1912 respectively. Of these, the second (below) is the better-known, and a piece that benefits from multiple listenings, which bring to the fore the composer's skillful manipulation of the opening thematic material, for example.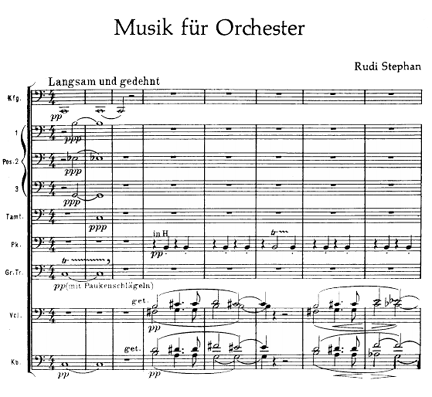 His greatest achievement is probably his two act opera Die ersten Menschen (The First Man), an expressionist post-Wagnerian stage work based on an 'erotic mystery' by Otto Borngräber. Rudi had begun work on the opera in 1911 and was preparing for a premiere performance in 1914 when the war prevented the production. He apparently regarded the majority of his early works as training for it.

The work must have been considered decidedly controversial at the time; it casts the Biblical story of Cain and Abel along Freudian lines; the role of Eve is apparently played as a "virtual nymphomaniac", whose advances are shunned by Adam and the fratricide of Cain portrayed as oedipal jealousy. In its 1920 production, all four characters wore only simple bearskin costumes.

Rudi never saw his opera produced, however. In March 1915 he was called up for active service, and by September of that year he had been posted to Tarnopol, Galicia on the Eastern Front (now part of Ukraine). He was shot through the head by a Russian sniper two days after arriving at the front. He was 28.
Legacy
It is perhaps illustrative of the respect for the composer that a number of his compositions were posthumously published, and his loss was said to be particularly felt in his home city; the Gymnasium (grammar school) he attended in his youth was renamed in his honour.

His friend, the critic Karl Holl (1892-1972) edited and published the majority of Stephan's scores, also writing a short monograph on the composer in 1920 which is the principal biographical source for many details of Rudi's life. Stephan's opera Die ersten Menschen was given its premiere in Frankfurt in 1920. Akin to several Allied composers killed in World War 1, there was a feeling that Germany had lost one of its leading young composers. However, after the fall of the Weimar Republic and the political turmoil of the 1920s and 30s, Stephan's works were neglected.

Regrettably, his legacy cannot be fully assessed. The majority of his manuscripts and fragments of works-in-progress were destroyed in Allied bombing of Worms City Archive in 1945.
Bibliography
Robert Blackburn, "Rudi Stephan: An Unfulfilled Talent?" in The Musical Times, Vol. 128, No. 1733 (Jul., 1987), pp. 375-378
Juliane Brand. "Stephan, Rudi." Grove Music Online. Oxford Music Online. Oxford University Press.
Christopher Hailey, Review of 'Musik für...': Untersuchungen zum Werk Rudi Stephans by Hartwig Lehr, Music & Letters, Vol. 79, No. 1 (Feb., 1998), pp. 135-137
Gordon Kerry, CD notes for Music for Orchestra, (Colchester: Chandos Records 2006), CHAN 5040.

The 1913 Schott publication of Music for Orchestra is available to view on the IMSLP website.