Francis Purcell Warren
29 May 1895 - circa 3 July 1916
Francis Purcell Warren died so young, aged 21, that any assessment of his abilities can only be made on the basis of a very small number of early works and the esteem that his contemporaries held him in.

Life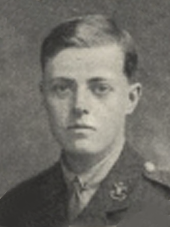 F Purcell Warren (as his published works usually credit him) was born in Leamington Spa, Warwickshire on May 29, 1895, the son of a local musician and conductor, Walter Warren. He was educated at Beech Lawn School, Leamington, and West House School, Edgbaston. As a student, according to Thomas F. Dunhill he had some works intended for use in Roman Catholic worship published while still at school; certainly his Ave Verum and Benediction Service were in print by 1912.

In March, 1910, he obtained a scholarship to study violin at the Royal College of Music with a secondary study of piano, although it appears that he later gravitated towards the viola, at which he showed a particular talent.

While at the RCM, he became a firm friend of Herbert Howells and it is through Howells that his name is mostly remembered. Warren was one of The B's in Howells' early orchestral work (Op.13) of October/November 1914 which celebrated some of the composer's close friends; Purcell Warren qualified as a consequence of his inevitable nickname 'Bunny'.

It appears that although 'Bunny' was not officially a composition student, his friends managed to get a piece he had completed, Five Short Pieces for Cello and Piano, performed in a college concert and caught the ear of Sir Hubert Parry, who later reported favourably on his potential as a composer. The very short pieces were subsequently published.

In September 1914, 'Bunny' enlisted as a private in the Royal Warwickshire Regiment, and went to France in the following March. Shortly afterwards he returned to England and joined the 10th Battalion of the South Lancashire Regiment. According to Hubert Parry, he 'endured bravely some very uncongenial experiences in the earlier stages of training', which Parry does not expand on, but perhaps hints that he was not ready for the trauma of fighting in the conflict.

In March 1916 Warren obtained a commission as a Second Lieutenant and was posted to France. He was reported missing at Mons on July 3, 1916 during the Battle of the Somme. His body was not recovered, but he is commemorated on the Thiepval Memorial.

Hubert Parry, in his Director's Address to the RCM of 24 September 1917 devoted a large section to Warren's virtues:

I am afraid there is no longer any hope of young Purcell Warren being alive. He has not been heard of for months. It is a peculiarly tragic case. He was one of the gentlest, and most refined and sensitive of boys, and was of that type which attracted people's love. He was a very promising violinist, and had also began to show characteristic qualities as a composer which were quite surprising, for there was a subtlety and a dexterity about his compositions which made us look upon him as likely to make a personal mark. He endured bravely some very uncongenial experiences in the earlier stages of training, and then he had to face the barbarities, and one of humanity's tenderest possessions was ruthlessly destroyed.
Works
With the exceptions of the early choral pieces Ave Verum and the Benediction Service of 1912, the majority of Warren's musical output consists of chamber works for strings or piano.

These include the aforementioned Five Short Pieces for Violoncello first published in 1914, two movements of which - 'A Sunday Evening in Autumn' and 'A Little Cradle Song' - have been recorded by Stephen Hough and Steven Isserlis on the CD Children's Cello published on the BIS label in 2006. The other movements are titled 'An Absent One', 'Whims' and 'So seems it in my deep regret'.

Works published before or soon after his death include a short Caprice Fantastique for solo piano and an Adagio for violoncello and piano, the latter published in 1925. The Adagio was his last completed work before leaving for the Front, and was planned as the slow movement of a Sonata, of which the first movement also existed in manuscript as an incomplete sketch in the 1920s.

The only other significant work by Warren is a String Quartet in A minor of 1914, of which the final movement, a pleasant set of Variations on an Original Theme for String Quartet has been published by the Merton Music Project and is available on the IMSLP website.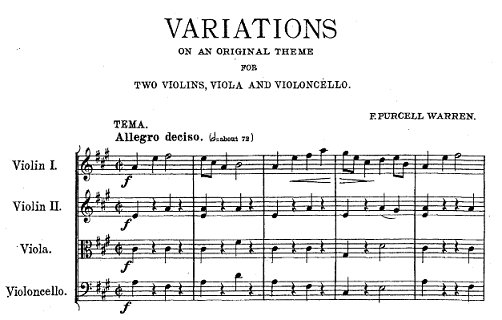 Perhaps his greatest legacy was as a friend of Herbert Howells, who commemorated him in an achingly mournful Elegy for Viola, String Quartet and Strings first performed in a Mons Memorial Concert in the Royal Albert Hall in 1917. The composer Alan Ridout recounts in his memoirs that:

There is no doubt in my mind that he [Howells] loved Francis Purcell Warren. He had a snapshot of him on his mantelpiece, standing together with Leon Goossens...Once he stood before the picture gradually becoming inarticulate with grief. After a long silence he said, "He was everything to me" and sobbed, then swiftly pulled himself together.
The B's was performed in tribute in 1917 and Howells was later to incorporate some of the melodic and thematic material from the 'Bunny' movement into 'Corydon's Dance' in his Music for a Prince (1949), where again snippets of solo viola can be heard.
Resources
'An Absent One' from Five Short Pieces for Violincello (1914)
'A Little Cradle Song' from Five Short Pieces for Violincello (1914)
'A Sunday Evening in Autumn' from Five Short Pieces for Violincello (1914)
'Ave Verum' (1912)
'O Salutaris' from Benediction Service (1912)

Bibliography

W.R. Anderson, 'Forgotten Men of English Music' in The Listener, Vol 25, No 631, 13 February 1941, p. 245
Thomas F. Dunhill, 'Francis Purcell Warren' in Music & Letters, Vol. 7, No. 4 (October 1926), pp. 357-363
Paul Spicer, Herbert Howells (Bridgend: Poetry Wales Press Ltd, 1998), p. 63
Martin John Ward, Analysis of Five Works by Herbert Howells, (University of Birmingham thesis, 2005), Appendix 2b, p. 164
Images of the Month: The Battle of the Somme, The Museum of Music History